Our passion for good ol' homemade beef jerky is what drove us to forming Lucky® Beef Jerky. We understand the DIY spirit and in light of that we would like to share one of our beef jerky recipes.
For this recipe we will be making Slab Jerky, aka muscle jerky, which is the traditional style of jerky that's been made for eons.  It's very simple to make.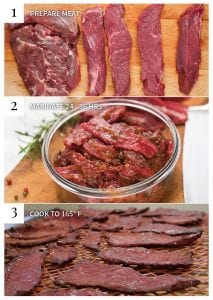 Slice the meat as consistently as possible.  Knife works fine, or you can use an actual meat slicer.  Lean meat works better than fatty meat, fat can go rancid.  Trim as much fat and connective tissue as possible before slicing.
Using the our Jerky Seasoning & Cure kit, blend 1 packet of seasoning and 1 packet of cure into a cup or two of cold water and add to 5lbs of meat.  Allow the mixture to marinate for a couple days.  If you want to add any additional seasoning, this is the time to do it.  Adding a little brown sugar to the mix will help keep the jerky moist.
After the meat and marinade have spent a couple days in the refrigerator – between 35 and 39 degrees F – the cure will keep the meat from spoiling.  Now it's time to lay the jerky out on oven racks for drying.  Make sure and put some foil down below the meat, as it's likely to drip as its drying.
Set the oven to 200F and check the meat every half hour or so.  It usually takes at least a couple hours for the meat to reach temp, but once the internal temperature is 165F, it's ready to come out of the oven.
Now you can enjoy some of the best homemade beef jerky. Feel free to experiment and create your own beef jerky recipe. We would love to hear feedback on how you make your jerky and you might even get a free bag or two if you are Lucky.